International Journal of South Asian Studies (Online Journal: ISSN 2434-3005)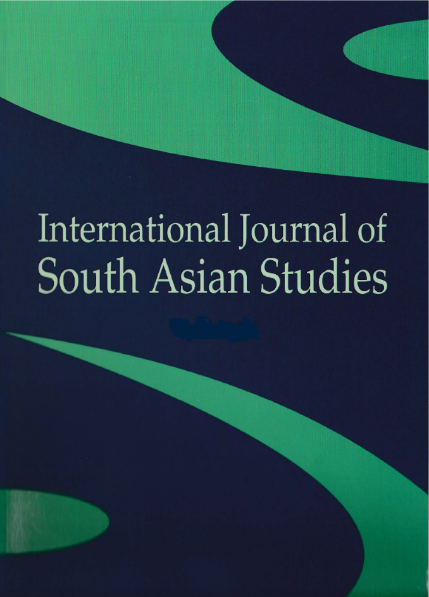 Journal Information
Online Journal: ISSN 2434-3005
©Japanese Association for South Asian Studies (JASAS)
The International Journal of South Asian Studies (IJSAS) is an annual online English-language journal launched by the Japanese Association for South Asian Studies (JASAS).
Japanese Association for South Asian Studies (JASAS) Head Office
c/o Prof. S. NEJIMA (Secretary General)
Faculty of Global and Regional Studies, Toyo University
5-28-20 Hakusan, Bunkyo-ku, Tokyo, JAPAN 112-8606
Volume 10 (2020)
Contents
Articles
Between the "Hubs and Hinterlands" of Migration in South Asia: The Bangladesh-India Corridor
. . . Binod Khadria(1)

Potential Developing Countries for Foreign Direct Investment: A Panel Data Analysis
. . . Abdul Waheed(11)

Book Reviews
Disability, Education and Employment in Developing Countries: From Charity to Investment by Kamal Lamichhane, Cambridge: Cambridge University Press. 2016. xvi+272pp. ISBN 978-1107-0640-65.
. . . Kozue Nagata(19)

Soldiers of Empire: Indian and British Armies in World War II by Tarak Barkawi, Cambridge: Cambridge University Press. 2017. xvii+ 321pp. ISBN978-1316620656.
. . . Amit Ranjan(25)

Aim and Scope
The aim of the International Journal of South Asian Studies is to promote academic dialogues between Japanese and non-Japanese specialists on South Asia. The Japanese Association for South Asian Studies invites scholars specialized in South Asian studies to contribute their scholarly works to the International Journal of South Asian Studies, and, in particular, participate in its 'Debates' intended to stimulate lively discussions on various topics relating to South Asia.
SUBMISSION
The International Journal of South Asian Studies welcomes submission of scholarly articles from international colleagues in the field of humanities, social sciences and related disciplines on topics regarding South Asia. Authors are requested to send their manuscripts electronically both in MS-Word files and PDF files to the Editorial Board (ijsas.editorialboard[ at ]gmail.com <Please replace "[ at ]" with "@">).
The manuscript should be unpublished and should neither have been accepted nor is it under review for publication elsewhere.
All articles will be refereed and the final decision of acceptance will be taken by the Editorial Board.
Contributors are requested to follow the Style Guidelines given below.
Copyright of the articles published in the Journal rests with the Japanese Association for South Asian Studies.
The Japanese Association for South Asian Studies or an organization authorized by the Association holds the right to make a database of or publicize in electric forms the articles, etc., contained in the International Journal of South Asian Studies.
STYLE GUIDELINES
The length of an article should not exceed 10,000 words including notes and references.
The text should be typed double-spaced in 11point type, and on one side of A4 sheets for a hard copy.
Another sheet showing the author's institutional affiliation, field of research and the titles of two major publications should be attached to the text.
Separate serial numbers should be put on Tables, Figures, Plates and Photographs respectively. Places of their insertion should be clearly indicated in the text. Tables, Figures, Plates and Photographs should be submitted either in EXCEL or JPEG file.
All files should be saved using the name of the first author, followed by an indication of file content (Text, Tables, Figures, etc.) and the serial number assigned to them, if any.
If diacritical marks are applied in the manuscript, those installed in Windows IME or Gandhari Unicode (available from the following website: http://andrewglass.org/fonts.php) should be used.
Sources of references or quotations should be indicated within the text as follows: (Dumont 1966: 146).
Notes should be numbered consecutively and placed at the end of the text. DO NOT use footnote function in MS-Word. Instead, they must be manually entered.
Reference List in alphabetical order should be attached at the end of the text following notes.
EXAMPLES
Aghion, Philippe, Robin Burgess, Stephen Redding and Fabrizio Zilibotti, 2007, 'The Unequal Effects of Liberalization', Working Paper, London School of Economics (http://econ.lse.ac.uk/staff/rburgess/wp/abrz.pdf, accessed on 15 June 2013).
Jha, D.N., 1989, 'Early Indian Feudal Formation', Journal of the Japanese Association for South Asian Studies, no. 1, pp. 1-21.
Lundberg, Shelly J., Robert A. Pollak and Terrence J. Wales, 1997, 'Do Husbands and Wives Pool Their Resources? Evidence from the United Kingdom Child Benefit', Journal of Human Resources, vol. 32, issue 3, pp. 463-80.
Prabhakara, M.S., 2003, 'Territories of Fear', Frontline, vol. 20, issue 24 (22 November), (http://www.frontline.in/navigation/?type=static&page=flonnet&rdurl=fl2024/stories/20031205003103900.htm, accessed on 15 June 2013).
Sen, Amartya, 1998, 'On Interpreting India's Past', in Sugata Bose and Ayesha Jalal (eds.), Nationalism, Democracy and Development: State and Politics in India, New Delhi: Oxford University Press, pp. 10-35.
Wiser, William H., 1936, The Hindu Jajmani System: A Socio-economic System Interrelating Members of a Hindu Village Community in Services, Lucknow: Lucknow Publishing House.
Yanagisawa, Haruka, 2001, 'Eiinkankei to Indokogyoka no ichisokumen' (Anglo-India Economic Relations and Indian Industrialisation in the 1930s), in Shigeru Akita and Naoto Kagotani (eds.), 1930nendai no Ajia kokusai chitsujo (International Order of Asia in the 1930s), Hiroshima: Keisui-Sha, pp. 237-59, (in Japanese).
EDITORIAL BOARD
Chairperson:
Shuji UCHIKAWA, Senshu University
Members:
Makoto KITADA, Osaka University
Hisae KOMATSU, Otemon Gakuin University
Mayumi MURAYAMA, Institute of Developing Economies, JETRO
Ayako NINOMIYA, Aoyaka Gakuin University
Hisaya Oda, Ritsumeikan University
Hajime SATO, Nanzan University
Maya SUZUKI, Daito Bunka University
Volume 10 (2020)
Contents
Articles
Between the "Hubs and Hinterlands" of Migration in South Asia: The Bangladesh-India Corridor
. . . Binod Khadria(1)

Potential Developing Countries for Foreign Direct Investment: A Panel Data Analysis
. . . Abdul Waheed(11)

Book Reviews
Disability, Education and Employment in Developing Countries: From Charity to Investment by Kamal Lamichhane, Cambridge: Cambridge University Press. 2016. xvi+272pp. ISBN 978-1107-0640-65.
. . . Kozue Nagata(19)

Soldiers of Empire: Indian and British Armies in World War II by Tarak Barkawi, Cambridge: Cambridge University Press. 2017. xvii+ 321pp. ISBN978-1316620656.
. . . Amit Ranjan(25)

Between the "Hubs and Hinterlands" of Migration in South Asia: The Bangladesh-India Corridor
Abstract
Immigration from Bangladesh to India comprises the first single largest "bilateral corridor" of international migrants in the Global South. Most are irregular migrants. Would differentiating their stocks from the flows, and investing in the human capital of the former while regulating the latter amount to a policy India ought to innovate in its own economic self-interest?
Keywords: Bilateral Corridors of Migration, India, Bangladesh, Illegal migrants, Involuntary migrants, Refugees, Human capital.
1. Introduction
According to the last two UN International Migration Reports, India and Bangladesh, both in South Asia, figure among top twenty countries of origin of migrants in the world. India continued at the topmost rank with a worldwide stock of 17.5 million Indians in 2019 (up from 16.6 million in 2017) permanently living outside the country (United Nations 2019). Bangladesh was at the fifth position in 2017 with 7.5 million Bangladeshis living abroad (United Nations 2018a). 2 Among other distinctly outstanding features of these two countries relating to international migration are one that India, with 1.3 billion people is among the world's highest populated countries, second after China; and Bangladesh with 1,063 persons per square kilometer is among those having the highest density of population. Another important dimension of migration involving these two counties together is that at the turn of the century, in the year 2000, Bangladesh-India was the second largest "bilateral corridor" with 3.9 million Bangladeshis of migrant stock in India, just after the Mexico-United States corridor with 9.4 million Mexican migrant stock in the US. 3 By 2017, its rank slid down to the fifth position, with the number of Bangladeshis living in India coming down to 3.1 million mainly due to mortality among the generation that had come to India during the war with the then West Pakistan that resulted in the creation of the independent state of Bangladesh in 1971. In 2017, about 40 percent, or two out of every five of the 7.5 million Bangladeshis outside the country resided in India and accounted for some 60 percent of the 5.2 million foreigners living in India itself. It thus makes up the largest "bilateral corridor" of south-south migration, what I would describe as migration from a prominent 'hinterland' of migrants to a major 'hub' in South Asia within the Global South.
Overshadowing these remarkable dimensions of international migration between Bangladesh and India, however, an unspecified majority of these Bangladeshi migrants in India are irregular or undocumented migrants, who have entered India illegally and who are often derogatively referred to by the local population as refugee miya 4 or bahiragoto (the outsiders), or merely as Bangladeshi. The majority would have crossed the borders since a long period of time, voluntarily in the sense that they have not been the conventional "forced migrants" displaced by strife or persecution in their own country. However, the push of the economic and other uncertainties leading to poverty at home and the pull of easy accommodation by the local politicians favouring them to settle and mingle with the local population for the lure of their votes in local and national elections in nearby Indian border states of Assam and West Bengal (and to a lesser extent in the newer states of the North-east India) would perhaps justify them being called "involuntary" migrants or "refugees". 5 In this sense, it fits well with the integrative explanation of "refugee movement" that was first provided by Zolberg in 1983, rejecting the traditional dichotomization of economic migrants and refugees, and ousting the latter from the perspective of a separate theorization (Zolberg 1983).
2. The Waves of Bangladesh-India Migration
Bangladesh and India share 4,096 kilometers or about 2,500 miles of common border. The bordering Indian provinces are the states of Assam, Meghalaya, Tripura, and Mizoram in the north-east and West Bengal in the north-west of Bangladesh. There were three partitions in 1947 – of the British India and of the provinces of Bengal and Punjab – that created the new nation-states of India and a spatially fragmented West and East Pakistan. It engendered the largest recorded population transfer in history amidst horrific mass violence and large-scale deaths. Between 1946 and 1965, nearly 4.7 million Hindus and Sikhs moved into India and approximately 6.5 million Muslims moved to West Pakistan (Roy 2012). Unlike the splitting of the Punjab, which witnessed rapid transfer of minority populations amid widespread violence though, the Bengal Partition led to relatively small-scale violence that characterized more graduated exchange of Hindu and Muslim minority populations. Between April and July 1950, 1.2 million Hindus left East Pakistan and 600,000 Muslims from West Bengal moved to East Pakistan. India and Pakistan were entangled in a two-decade long engagement with each other over delineating their territories and deciding who could and could not be their citizens, and what would construct their respective citizens' national identities (Roy 2012).
Bengal's partition involved almost two-thirds of its areas being carved out to create East Pakistan. It produced the longest international border between two countries in South Asia and millions of new citizens who were marked as majorities and minorities based on religious demography. Beginning with 1947, continuous waves of Bangladeshis facing persecution, hostility, and poor economic conditions in what was then East-Pakistan have migrated illegally to find sanctuary in these border states of India. This illegal migration from Bangladesh to India, comprising both economic migrants and refugees, has continued unabated since. While some of them have subsequently gone back to their homes in Bangladesh, large majority have settled down as new communities in the local population.
Having its genesis in the partition of the subcontinent into India and Pakistan (with Bangladesh as the then East Pakistan) in 1947 and later into Pakistan and Bangladesh in 1971, the waves of immigration into India were fuelled by communal tension, social strife and political turmoil. For example, in 1971 when fatalities ensued in the wake of the Mukti Bahini's (the liberation brigade's) War of Liberation for secession from Pakistan, at least 10 million Bangladeshis migrated to West Bengal and North-eastern states of India (Jha 2018). The majority of these migrants were those fleeing persecution of rape, murder, forced conversion and so on (Ghosh 2012).
There is no reliable figure on the exact number of illegal immigrants from Bangladesh in India. Some analyses of change in the growth of population and demographic profiles of Bangladeshis in India in the last four censuses of India – 1981, 1991, 2001, and 2011- suggest their numbers to be over 15 million with some reliable approximation (Tripathi 2016). They have been residing largely in the Indian states along the Bangladesh-India border, although some moving subsequently to other parts of India, even to remote areas including the National Capital Region (NCR) of Delhi in the north. Mostly illiterate, and hardly educated even till primary levels and comprising significantly large number of women, a substantial proportion of them take up petty and manual jobs – both unskilled and low-skilled – in urban areas – as helpers, porters, rickshaw pullers, cart pullers, painters, carpenters, auto mechanics, tyre-repairers, and so on, mostly in urban informal employment in the metropolises, big cities and large towns in India and also as agricultural workers in their peripheral rural areas. Women have been mainly into the occupation of housemaids in urban middle-class household.
India is not a signatory to the 1951 Refugees' Convention nor to the 1967 Protocol, which has 140 countries as signatories. Despite this, India has been hosting the largest numbers of refugee population in South Asia. India's relatively sound economy compared to those of the neighbouring countries, and the liberal democratic polity have contributed to the country becoming a magnetic "hub" for migrants fleeing persecution in other parts of the region, which comprises what I call the "hinterland" of migrants looking for a safer and better life (Khadria 2011). "Refugees" from Tibet, Afghanistan, Sri Lanka, Myanmar, Pakistan, and the "illegal immigrants" that irregular immigrants from Bangladesh are derogatively called, have found shelter in India. While refugees coming from Tibet, Sri Lanka, Afghanistan, and Myanmar have been treated somewhat systematically, even if in somewhat ad hoc manner, the influx of the so-called "refugees"/ "illegal immigrants" from Bangladesh has remained a contentious problem. Thus, while the Tibetan refugees are perceived as 'peaceful' community living harmoniously with other local Indian groups, the Bengali refugees, comprising Bengali Hindus, Bengali Muslims and tribal groups coming from Bangladesh after 1971, and prior to that from erstwhile East Pakistan after 1947 have been, in sharp contrast, looked at with suspicion.
3. The Resentment and its Elusive Resolution
These continued waves of migration from Bangladesh to India have substantially contributed to altering the demographic composition in the northeastern states of India, particularly Assam, which the local population has felt extremely sensitive about and expressed resentment, often violent, at the presence of the outsiders. In Assam, for example, the presence of a disproportionately large number of illegal immigrants from Bangladesh and erstwhile East Pakistan, and their enrollment in voters' lists through corrupt collusion amongst the immigrants, the middlemen and the local politicians, led to a six-year long mass movement of protest known as the "Assam Agitation" from 1979 to 1985 that called for their deportation. 6 At the root of this movement against illegal immigration has been the debate around the dilution of the native way of life which is submerged in taking extreme pride in one's own language, culture, folk festivals and art, etc., sometimes labelled even as the "Assamese chauvinism" (Garg 2018). In this context, the indigenous Muslims have shared sentiments with the indigenous Hindus of Assam in terms of language, food, festivals and other social identities such as surnames. But this was not so for the Bengal-origin Muslims, which intensified the schism between the local Assamese and the Bengali immigrants around the issue of Bengali replacing Assamese as the state official language and as the medium of education in Assam from 1836 to 1873 under the British rule.
To quell the resentment that was at the root of the violence and insurgency in Assam and the North-east, the Indian Parliament passed the Illegal Migrants (Determination by Tribunal) (IMDT) Act in 1983 in an attempt to address the problem. The agitation culminated in an agreement called the "Assam Accord" that was signed on August 15, 1985, between the central and state governments and the leaders of the All Assam Students Union (AASU) and All Assam Gana Sangram Parishad – two leadership associations which spearheaded the Assam Movement, of which the latter subsequently became a new local political party called the Assam Gana Parishad (AGP) that came to form the government in Assam under a youngest chief minister the same year. The Assam Accord envisaged that all foreign nationals who had entered Assam on or after March 25th, 1971—the day after the Pakistan Army began full-fledged operations against Bangladeshi civilians seeking independence from Pakistan, causing them to flee to India in large numbers—were to be detected, their names deleted from the electoral rolls, and subsequently deported under the Foreigners Act, 1946. But little headway was made in that direction. This has led to continuation of simmering tension in the entire region thereby adversely affecting the day to day life. Often it has fueled insurgency in some of the north-eastern states (Goswami 2019).
India has tried to find a bilateral solution by taking up the issue with Bangladesh a number of times, but Bangladesh neither acknowledged the presence of any large number of illegal Bangladeshi immigrants in India nor initiated any effective steps to regulate the illegal entry of its citizens into India. India's long drawn efforts to stem the tide by putting up a barbed-wire fence along the border and strengthening border surveillance have not been effective enough to show any positive outcome. Similarly, apart from being extra-legal, India's practice of occasionally pushing illegal Bangladeshi immigrants back across the India-Bangladesh border has not been result-oriented as the immigrants either voluntarily chose a different porous border to re-enter India or were forcibly pushed back into India by the Bangladeshi patrol guards.
To implement the "Assam Accord" the Supreme Court of India directed the State Government of Assam to identify and count the illegal immigrants, mainly the Bangladeshis and put a deadline for coming out with the first list. As it was not possible to identify the illegal immigrants in Assam, in December 2014, the Supreme Court of India initiated updating of the National Register of Citizens (NRC) in Assam. Under this initiative, in contrast with the other states, the migrants of Indian origin who had settled in Assam could qualify either as Indian citizens or for a route to citizenship. It was decided to identify the genuine citizens of India and their legal descendants domiciled in the state prior to March 25 1971 by creating a National Register of Citizens (NRC) either from the Voter's List of country's first national election in 1951 or by enrollment or passing out certificates issued by the educational institutions prior to that date. The final list, when announced in 2018, led to a huge controversy as some 4 million nationals of India were left out, a recount in 2019 reducing it to 1.9 million. This is one major reason why the exercise of citizens-stocktaking through a National Register of Citizens (NRC) in India's north-eastern state of Assam, thus indirectly counting the stock of illegal immigrants settling in the post cut-off date of 24 March 1971, fixed by the Supreme Court of India under the "Assam Accord", is of utmost significance in the broader context of Bangladesh-India migration (Khadria 2016b, Garg 2018).
What came paradoxical to the exercise of NRC was the Citizenship Amendment Bill (CAB) 2019, made into an Act. It legalized providing shelter and the right to naturalize for those people of Indian origin who belonged to six minority religious communities, namely Hindus, Sikhs, Jains, Buddhists, Christians and Parsees from Afghanistan, Pakistan and Bangladesh who came to India even illegally before 31st December 2014. It also reduced the minimum residency period for Indian citizenship from the existing twelve years to seven years.
This is a paradox that has become a contentious issue in the state of Assam and a few other states in the North-east of India (The Hindu 2018, The New York Times 2020) 7. The concern of the people in Assam, and the North-east is that a person who has come illegally should be dealt with according to the Constitution of India which allows no discrimination based on religion in a country that has been secular. Moreover, there is a fear that Bangladeshi immigrants who have entered India illegally would convert and reconvert from one religion to another to derive undue advantage from such a legislation.
4. Contradictions in Indian Policy on Migration
However, in terms of international diplomacy, this does not seem to be affecting India's policy stance in relation to its treatment of the issues relating to immigration of foreigners, including undocumented or irregular refugees, including Bangladeshis, because India is not a signatory to the UNHCR convention. 8 In contrast, being the largest country of origin of migrants on the world map, during the last two or three decades India has shown a consistent enchantment towards the Indian emigrant professionals, especially those emigrating to the developed countries, and has been celebrating back home their success stories abroad. This dichotomy between immigration and emigration policies is not unique to India but more widespread, including even those countries which are signatories to the UNHCR convention. Justifiably, immigration policy changes in the US, the UK and elsewhere, where Indian migrants constitute significant stocks and flows, frequently draw attention of the Indian government, media, business and industry. Changes in the H-1B visa regimes and fees in the US including spousal work authorization for H-4 visas, and visa caps on skilled migrants from non-EU countries in the UK are live examples of this concern. India is also quite proactive in protecting Indian migrants living in the Gulf countries. For example, the issuing of ECR (emigration check required) passports has been a proactive measure of the Indian government to safeguard the low skilled and uneducated migrants from exploitation in the destination countries in the Gulf, although it has remained controversial due to loopholes allowing for abuse and corruption. In fact, over time, Indian Gulf migration policy has undergone paradigm shifts – from emergency protection of Indian emigrants through consular support (e.g., preparing to evacuate the large numbers of those losing jobs in the wake of the Covid-19 pandemic and plummeting oil prices) , to enhancing their welfare through low-cost insurance policies, and further to their participation back in India's development, e.g., by incentivizing larger volumes of remittances coming to India from the Gulf as compared to from other destination countries (Khadria 2016c).
In contrast, India lacks a comprehensive policy framework on immigration despite being a preferred destination for large numbers of migrants from various countries and the most from its neighbour in the east, Bangladesh. Rather than having a well-crafted immigration policy, India deals with immigration related issues on a case-by-case basis in a short-term ad hoc manner, e.g., inviting objections to inclusion or exclusion of particular person in the Voters List anywhere in India or in the National Register of Citizens in Assam on grounds of questionability of legitimacy of his/her Indian citizenship. Despite creating tension in some parts of the society and becoming a focal point of debate among the policy makers, the academia and the security forces, immigration has failed to generate a healthy debate on the issue, not to speak of an amicable policy stance.9
Since all the major source countries of migrants to India are other developing countries, where, like in the case of India, the majority of highly skilled professionals tend to migrate to the developed countries of the global north and the semi-skilled to the rich countries of the Gulf, only the unskilled and low-skilled are left with the option of crossing over to neighbouring India (Joseph and Narendran 2013). Because of factors like a shared history, contiguous and largely porous borders, and cultural and linguistic affinities, majority of migrants who come to India are poor, downtrodden and those who cannot afford going to the so-called "greener pastures of the west" in the global north.
Though over the decades the reasons for migration have become fairly diverse and the economic and political factors as well as social networking have emerged as the main forces propelling the migrants to enter into India, there were both push and pull factors at work: shrinking employment opportunities in the domestic economy, rapid population growth and poor living and working conditions at home in Bangladesh on the push side; and expanding economic opportunities and better chances of livelihood (Samadar 1999; Hazarika 2002, 2018; Samuels et al. 2011, Siddiqui 2013) and a thriving democracy in India on the pull side.
Though the contribution of Indian emigrants, especially the high-skilled professionals and knowledge workers and their eventual return, in the development of the host societies as well as in India, has been fairly debated and documented (Khadria 1999), systematic understanding about the contribution of immigrants in India is rather scarce (Nandy 2005; Joseph and Narendran 2013). This is because the mutually exclusive two-fold distinction between destination countries – what I have called the "hubs" – and the origin countries – the "hinterlands", primarily determined by the dominant proportion of either immigrants or emigrants in the population of a particular country under consideration continues (Khadria 2011).
As I have argued elsewhere, Indian policy needs to differentiate between the stocks and flows of immigrants in the country (Khadria 2016a). It would no doubt be in the larger interest of India as a sovereign country to put an effective control on the unabated flows of illegal immigrants from across the borders and minimize them. At the same time, there are avenues for creating enough space to integrate their accumulated stocks and tap the potential contribution of involuntary immigrants in the social and economic development of the country. This would come through long-term and consistent investment in their human capital, provided the policy makers are ready for some fresh thinking on policy innovation (Khadria and Kumar 2015, Khadria 2016b). It would be quite apt to mention that, besides adding to the social and cultural diversity, like voluntary immigrants these involuntary immigrants too have been contributing to the Indian economy by putting their hard labour in various roles, particularly in the informal sectors as construction workers, domestic help, cleaners, bar and restaurant workers, petty traders and so on. Unfortunately, these have been overshadowed by the negativity of the criminal elements among those undocumented immigrants – those resorting to theft, robbery, trafficking etc. As a result, the positive contributions these immigrants make in destination countries have not been assessed or measured cardinally in terms of their quantitative share in these countries' gross domestic product (GDP). There is a need to facilitate evidence-based research and assessment of the immigrants' contribution in the destination economy with a new perspective (IOM 2019, chapter 5). In many countries, the parallel economy, where the illegal immigrants operate, mostly in the informal sectors, with payment of wages and salaries made through cash and unaccounted transactions rather than the banking or other formal channels, hides their marginal contribution over and above the natives operating in the same informal sectors. This applies to the contributions Bangladeshi immigrants make to the economy of India, irrespective of whether in the informal or parallel sectors.
5. Conclusion
The task of regulating the flow and deporting the irregular immigrants back to Bangladesh is indeed challenging. Some people suggest that a "bundle of multipronged, well-coordinated strategies pursued under an appropriate legal framework might be better able to address this problem in a more effective manner" (Tripathi 2016). Strategies suggested include (1) Enacting a national refugee law: So that refugees are clearly defined and can be distinguished from illegal immigrants, and forging a bilateral agreement between India and Bangladesh that provides for taking back nationals who stay illegally in the other country, after due verification. The main hurdle would be to successfully detect the Bangladeshi immigrants, assign them to separate categories of refugees and illegal migrants, resettle or repatriate them, and prevent any further influx. (2) Deterring migration at the source: Because the majority of them are economic migrants, a more lasting and effective solution would be through economic development in Bangladesh, particularly along the border with India. For this India and other donor countries and agencies need to work alongside Bangladesh. 10 India may also consider linking its economic assistance to Bangladesh to the cooperation and support promised and received in reducing the migration problem. (3) Resorting to international cooperation: It has been pointed out that India has been a member of the UN High Commission for Refugees (UNHCR) Executive Committee since 1995 and that of the International Organisation for Migration (IOM) since 2008. It may now consider being more proactive with the affairs of these two organizations. It is also highlighted that western countries, which generally used to see the refugee issue from an activists' viewpoint and were more concerned about refugees' rights and privileges, are now faced with a large influx of foreign population that is affecting their national security, may now be in a better position to appreciate India's concerns: "India should keep its options open to avail itself of advisory services or any other assistance offered by the UNHCR to deal with refugees from Bangladesh, particularly for repatriation or third-country settlement. The UNHCR's involvement may also help in preventing a further influx of refugees because its first priority has always been to engage with the country of origin to create conditions for the return of refugees that in turn help to prevent further outflow." 11 Similarly, India may also consider availing itself of assistance from the IOM, which could act as a neutral party in the joint verification mechanism for assessing Bangladeshi immigrants' status.
Notwithstanding the above long-term policy strategies that have been suggested, whether one likes it or not, it would be impossible to wish away the large stocks of "illegal", "irregular" or "undocumented" Bangladeshi immigrants in India back into their country of origin within any conceivable length of time (Khadria 2016a, 2016b; Khadria and Kumar 2015). Apart from the difficulty of not being able to distinguish between a citizen of Indian origin and a Bangladeshi immigrant who had entered India illegally, because of common ethnicity, language and culture, the fact remains that they have lived in this country for decades, often over two or three generations, and will continue to stay. The flows too cannot be reversed but can at most be minimized and regulated to optimum levels of legal immigration. As a destination country it would be in India's self-interest to nurture the adopted stocks of these cross-border involuntary immigrants by investing in their potential human capital – their education and their health, which have strong positive externality effects on the entire population, not distinguishing between legitimate Indian citizens and illegitimate Bangladeshi expatriates. In other words, economic integration rather than deportation must be the mantra of the immigration policy objective of "leaving no one behind" spelled out in the Sustainable Development Goals (SDG) agenda whereby the governments have pledged to facilitate "Safe, Orderly, and Regular" migration and mobility of people, including through the implementation of planned and well-managed migration policies" (SDG target 10.7) (Khadria 2017). Such a strategy would receive further boost from the Global Compact for Migration (GCM) signed by all but a few Member-States of the United Nations at Marrakesh, Morocco in December 2018 (United Nations 2018b).
The bottom-line therefore for India would be to derive a lesson from the basic dictum of "self-interest" that the father of economics Adam Smith (1776) gave the world as the basic driver of individual human activity some two and a half centuries ago, and apply it in crafting an innovative cross-border immigration policy in dealing with involuntary and/or illegal migration to India from Bangladesh. This would help in the optimization of human capital formation in India and maximization of the contribution of immigrants to India's Gross Domestic Product (GDP) – both resulting in higher average productivity of the pan-Indian labour force – on an efficiency rationale, and not a charity or philanthropy-based welfare rationale.
∗Binod Khadria is a migration scholar and presently the South Asia Coordinator of Metropolis Asia. He is a former Professor of Economics of Education and International Migration at Jawaharlal Nehru University, New Delhi. His email is: bkhadria@gmail.com
1I am grateful to Ronald Skeldon for constructive suggestions on an earlier draft and to Tanja Bastia for indicating some points of clarification to help improve the clarity of arguments. The responsibility for any shortcomings in this article remains with me alone.
2Another freely available and most referred source of latest data on international migration is World Migration Report, published biennially by the IOM. Its latest edition, WMR 2020 (IOM 2019) presents key data and information on migration as well as thematic chapters on highly topical migration issues.
3According to the UN, the migration through "bilateral corridor" implies migration from one single country to another single country, not to the whole world; it does not mean two-way migration between them either. (United Nations 2018a).
4Miya is an Urdu word to address as "Gentleman", but is Assam, it is derogatively used as a Muslim of Bengali origin.
5There were no checks and balances to monitor the citizenship documents for being enrolled in the voters' lists. See Goswami (2019). The immigrants entering India had nothing to lose, particularly as de jure they didn't have that status because India has not been a signatory to the UN Refugee Convention; de facto they had the protection of the politicians and their parties.
6The collusion has been so deep-rooted that detecting illegal immigrants from Bangladesh has not been easy. The subtle differences in accents, dialect, and features between an Indian Bengali and a Bangladeshi are not easily discernible. Ironically, an illegal Bangladeshi immigrant is more likely to be equipped with an Indian identity document than an Indian Bengali who may take his or her Indian citizenship for granted. The fact that most Bangladeshis now already hold ration cards, voter identity cards, or even the unique-identity Aadhaar cards further compounds the difficulty.
7The Citizens Amendment Bill was passed in ruling-party dominated lower house of the Indian Parliament in January 2019 but was not placed in the upper house in the February session because of the violent resistance in the North-eastern states of India, including some ruled by the same party as the Central government. Eventually, it was passed in December as the Citizenship Amendment Act 2019.
8India however treats refugees within its territories well. It has been incurring huge expenditures in looking after Tibetan and Sri Lankan refugees, substantial enough to gain its rightful place as an important donor country. See Tripathi (2016).
9See Khadria (2009a, 2009b, 2009c).
10See DFID (2007).
11It is being argued that the UNHCR will be particularly effective because Bangladesh accepts the UNHCR's assistance in the repatriation of Rohingya refugees to Myanmar.
References
DFID (2007), Moving Out of Poverty – Making Migration Work Better for Poor People, London: Department for International Development.
Garg, I. S. (2018), "Revisiting the Nationality Question in Assam: The EPW 1080-81 Debate", Economic and Political Weekly, June 2, pp. 13-15.
Ghosh, P. (2012), "India's 'Mexican' Problem: Illegal Immigration from Bangladesh", International Business Times, February 6, available at http://www.ibtimes.com/indias-mexican-problem-illegal-immigration-bangladesh-213993, accessed on April 2, 2014.
Goswami, S. (2019), Frozen Identities: Genesis of Structural Violence in India's North East, Indian Books and Periodicals, New Delhi.
Hazarika, S. (2002), "Illegal Migration from Bangladesh: Problem and Long-Term Perspective", Dialogue, Vol. 3, No. 3, pp. 25-26.
Hazarika, S. (2018), Strangers No More, Aleph Book Company, New Delhi.
IOM (2019), World Migration Report 2020, (M. McAuliffe and B. Khadria, eds.), International Organisation for Migration, Geneva. Available at www.iom.int/wmr/
Jha, M., (2018), "India's refugee saga, from 1947 to 2017", Live Mint, Updated: 09 Jan 2018, https://www.livemint.com/Sundayapp/clQnX60MIR2LhCitpMmMWO/Indias-refugee-saga-from- 1947-to-2017.html, Visited on 18 March 2019.
Joseph, J. and Narendran, V. (2013), "Neither Here nor There: An Overview of South-South Migration from both ends of the Bangladesh-India Migration Corridor", Working Paper No. 569, The Hague: International Institute of Social Studies.
Khadria, B. (1999), The Migration of Knowledge Workers: Second-Generation Effects of India's Brain Drain, Sage Publications, New Delhi, 1999.
Khadria, B. (2009a), "The Future of South Asian Migration: A Look at India, Pakistan and Bangladesh", OECD Journal: General Papers, Vol. 2009, No. 4, pp. 26-49.
Khadria, B. (2009b), "Adversary Analysis and the Quest for Global Development: Optimizing the Dynamic Conflict of Interest in Transnational Migration," Social Analysis, 53 (3), Winter, pp. 106-122.
Khadria, B. (ed.) (2009c), India Migration Report 2009: Past, Present and the Future Outlook, New Delhi: International Migration and Diaspora Studies (IMDS) Project, Jawaharlal Nehru University& Cambridge University Press, New Delhi.
Khadria, B. (2011), "Understanding Migration in the Asia-Pacific Region through a model of 'Hubs and Hinterlands'", IMDS Working Paper No. 37, Sept., IMDS Project, JNU, New Delhi.
Khadria, B. (2016a), "Involuntary and Illegal Migration to India: The Case of Bangladesh", NORRAG NEWS (NN), vol. 53, May, Special Issue on: Refugees, Displaced Persons and Education – New Challenges for Development and Policy; Section on: Regional Lenses on the Global Politics of Involuntary Migration – Asia: South, South-east and East, pp. 118-119.
Khadria, B. (2016b), "What after NRC Stocktaking? Fresh Thinking for India's Immigration Policy Innovation", Research Journal of Contemporary Concerns, vol. 13, Cotton College Research Council, Guwahati, Assam.
Khadria, B. (2016c), "Middle-East Migration Country Policies" in Besharov, Douglas J. and Mark H. Lopez, eds., Adjusting to a World in Motion: Trends in Global Migration and Migration Policy, International Policy Exchange Series, Oxford University Press.
Khadria, B. (2017), Thematic Experts' Report of the Second Thematic Debate on GCM, UN, New York, May 23, 2018. https://refugeesmigrants.un.org/sites/default/files/t2_p3_binodkhadria.pdf
Khadria, B. and P. Kumar (2015), "Immigrants and Immigration in India: A Fresh Approach", Economic and Political Weekly, Feb 21, 2015, vol. L n. 8, pp. 65-71.
Nandy, C. (2005), "Illegal Immigration from Bangladesh to India: The Emerging Conflicts", Mellon-MIT Foundation on NGOs and Forced Migration, SLIFKA Program in Inter-Communal Coexistence, Brandeis University, available at http://web.mit.edu/CIS/www/migration/pubs/rrwp/chandan_nandy_immigrants.pdf
Roy, H. (2012), Partitioned Lives: Migrants, Refugees, Citizens in India and Pakistan, 1947-65, Oxford University Press, New Delhi.
Sammadar, R. (1999), The Marginal Nation: Trans-border Migration from Bangladesh to West Bengal, New Delhi: Sage Publications.
Samuels, F., Niño-Zarazúa, M., Wagle, S., Sultana, T. and Sultana, M. M. (2011), "Vulnerabilities of Movement: Cross-border Mobility between India, Nepal and Bangladesh, ODI Background Note (November), available at http://www.odi.org.uk/sites/odi.org.uk/files/odi-assets/publications-opinion-files/7404.pdf
Siddiqui, T. (2013), "Migration as a Livelihood Strategy of the Poor: The Bangladesh Case", paper presented at the Regional Conference on Migration, Development and Pro-Poor Policy Choices in Asia, jointly organised by the Refugee and Migratory Movements Research Unit, Bangladesh, and the Department for International Development, UK, on 22–24 June 2003 in Dhaka, Bangladesh, available at www.livelihoods.org.
Tripathi, S. (2016), "Illegal Immigration from Bangladesh to India: Towards a Comprehensive Solution". https://carnegieindia.org/2016/06/29/illegal-immigration-from-bangladesh-to-india-toward-comprehensive-solution-pub-63931 6/7, Visited on 18 March 2019.
The Hindu (2018), May 7, http://www.thehindu.com/news/national/hearing-on-citizenship-bill-begins-in-assam-amid-protests/article23804108.ece, Visited on 10 June 2018.
The New York Times (2020), "Muslims Are Foreigners: India's Inside Campaign to Decide Who Is a Citizen", 04 April, a Report by K. D. Singh and S. Raj.
United Nations (2018a), International Migration Report 2017: Highlights, Department of Economic and Social Affairs, Population Division, New York.
United Nations (2018b), Global Compact for Safe, Orderly and Regular Migration. https://refugeesmigrants.un.org/sites/default/files/180713_agreed_outcome_global_compact_for_migration.pdf
United Nations (2019), International Migration Report 2019, (ST/ESA/SER.A/438), Department of Economic and Social Affairs, Population Division, New York.
Zolberg, A. (1983), "The Formation of New States as a Refugee-generating Process," Annals of the American Academy of Political and Social Sciences, 467: 24-38.
Potential Developing Countries for Foreign Direct Investment: A Panel Data Analysis
Abstract
Foreign direct investment is considered an important tool for accelerating economic growth and development. This study aims to identify the potential developing countries for foreign direct investment. The study uses a panel data of 30 countries from 13 regions of the world for the period 1995-2015. The estimation results highlight ten factors that significantly affect the inflow of foreign direct investment. The estimation of FDI potential identifies seventeen developing countries out of 30 countries that should have higher FDI inflows than actual, based on their development level and economic performance. Based on the results of the model, the study urges policymakers to focus on identified macroeconomic factors to attract greater foreign direct investment in the country.
Keywords: FDI, Determinants, Potential, Panel Data
1. Introduction
The past few years have seen a tremendous inflow of foreign direct investment (FDI) in many developing countries. The history shows that FDI has played an important role in the growth and development of many countries. The enormous increase in FDI inflows in different countries is a reflection of the greater integration of world economies. It is believed that FDI inflow benefits the host country through higher economic growth and development. FDI is considered the most significant channels for the transfer of modern technology.
Since the mid-1980s, the developing countries experienced a rapid increase of FDI even faster than the world trade. Each developing country have a plan to attract FDI in the country. The key issue is –what causes the FDI inflow? There are several studies on determinants of FDI, but the results are inclusive. This study bridges this gap and tries to identify the key determinants of FDI inflows. This will help the policymakers to directly focus on these factors and design clear policies to attract FDI.
Analysis of the literature of FDI reveals that there is a lack of comprehensive theory on FDI. There are a variety of theoretical models that explain FDI and the location decision. Given the expected role of FDI in enhancing economic growth and development, the developing countries are generally interested in attracting it. Many countries are taking various policy measures to facilitate foreign investors. During the last two decades, there has been an inflow of FDI in different developing countries. The fluctuation in FDI is a great concern for developing countries. The policymakers are interested to compare their actual FDI with predicted FDI, which will be based on their macroeconomic performance. This study provides a comparison for 30 developing countries. The regression model of determinants of FDI will be used to estimate the predicted FDI based on macroeconomic performance. Based on actual and predicted FDI, the potential developing countries will be identified for possible inflow of foreign direct investment.
Thus, the objectives of this study are two-fold. First to investigate the macroeconomic determinants of FDI using panel data. Second, based on the results of the panel regression model, to identify the developing countries that are suitable for foreign direct investment on the basis of their economic performance and development level. The findings of this study will be a great help for policymakers in developing countries to design concrete policies to attract more FDI. The result of FDI potential will help the MNCs to select the developing countries for the possible location of their industry.
The paper is organized into six sections. Following the introduction, section 2 conducts a brief review of recent literate on determinants of FDI. Section 3 formulates a model based on a review of literature and discusses the source of data. Section 4 presents the estimation results of the long-run model. Section 5 highlights the potential countries suitable for FDI. The last section concludes the study, discusses the policy implications and set directions for further research.
2. Review of Literature
In empirical literature, there a is lack of consensus on the core determinants of FDI. This literature survey limit to the empirical studies on determinants of FDI in developing countries and mostly focused on findings of the panel or cross-sectional studies 1. Azam and Lukman (2010) examined the effect of economic factors on FDI inflows to three countries viz India, Indonesia, and Pakistan for the period 1971-2005. The results showed that market size, external debt, trade openness, physical infrastructure, and domestic investment were important determinants of FDI. Asiedu (2002) examines the determinants of FDI in sub-Saharan and non-sub-Saharan African countries. The study used 32 sub-Saharan and 30 non-sub-Saharan African countries. The results showed that for non-sub-Saharan African countries, higher returns on investment and better infrastructure have a positive impact on FDI inflow. The openness to trade promotes FDI to sub-Saharan and non-sub- Saharan African countries.
Leitao and Faustino (2010) using a panel data of European countries (EU-15), United States, Canada, Brazil, and Japan identified the significant determinants of FDI in Portugal. The results of the fixed effects estimator showed that trade openness has a significant positive effect and the tax level has a significant negative effect on FDI. Inflation, which is used as a proxy for economic stability, should have a negative effect on FDI but the study found it positive. The results of GMM estimation showed the insignificant effect of inflation on FDI. The significant determinants of FDI were found as labor cost, market size, trade openness, and taxes. The study suggested for a deeper analysis that should include market growth, language and cultural similarity and human capital in the extended model.
Koojaroenprasit (2013) analyzed the determinants of FDI in Australia from the USA, UK, and Japan for the period 1986 to 2011. Simple linear regression model in log form is used and the OLS method was applied for identifying the determinants of FDI. The study found that the impact of openness, corporate tax, customs duty, interest rate, and exchange rate are negative on FDI. The impact of market size was found to be positive on FDI. The study also found a significant negative impact of wage, trade openness, customs duty, exchange rate, corporate tax rate and research and development expenditures for country-specific regression models of inward FDI from the US, UK, and Japan.
Bakari et al. (2013) tested the effect of macroeconomic and socio-political factors on FDI inflows to Nigeria over the period 1970 to 2010. The error correction model revealed that FDI inflows in Nigeria depend on the degree of openness, exchange rate, unemployment rate, and political risk index. The study also found that there exists a long-run relationship between FDI and economic growth, openness of market, stable exchange rate, lower discount rate, and stable political environment.
Jayasekara (2014) investigated the factors that determine foreign direct investment inflows in Sri Lanka during the period of 1975-2012. The study used several variables in fully modified least squares (FM-OLS) regression model to estimate the significant determinants of FDI. The study found a significant positive effect of GDP growth rate, inflation rate, labor force, population growth rate, corporate tax, and infrastructure quality on FDI in Sri Lanka. The exchange rate depreciation had a negative effect on FDI. The study also tested several other variables 2, in the model, however, these were not significant in the case of Sri Lanka.
Mottaleb (2007) identified the main factors that determine FDI inflow in 60 developing countries. The panel regression result showed that larger GDP, higher GDP growth, business-friendly environment and modern infrastructure facilities (internet) attract FDI.
Jha et al. (2013) analyzed the determinants of FDI in six South Asian countries – India, Pakistan, Bangladesh, Sri Lanka, Nepal, and Maldives. The results of the pooled least squaresmethods for the period 1990 to 2010 showed that trade openness, GDP, and capital formation have a positive impact on FDI whereas labor force had a negative influence. Ranjan and Agrawal (2011) explored the determinants of FDI in BRIC countries (Brazil, Russian Federation, India and China). The study used panel data over 35 years ranging from 1975 to 2009. The results of the random effect model showed that market size, trade openness, labor cost, infrastructure facilities, and inflation rate are potential determinants of FDI in these countries.
Garibaldi et al. (2002) analyzed foreign direct and portfolio investment flows to 25 transition economies in Eastern Europe including the former Soviet Union from 1991 to 1999. The estimation results showed that economic reforms, trade liberalization, natural resource endowment, privatization methods, and barriers to foreign investment explain FDI inflows.
The above brief review of the literature shows that the results of the previous studies are inconclusive. There are some core variables that affect FDI inflows but the effect of many other macroeconomic variables are still to be measured. This study will try to fill this gap and study the effects of different macroeconomic variables for a bigger set of developing countries with a larger sample size.
3. Methodological Framework
There is no well-developed comprehensive theory on FDI. Based on the review of empirical literature, different variables are used to reflect a range of factors that potentially affect FDI.
FDIit = β0 + β1GDPit + β2GDSit + β3MEGDPit + β4POPit + β5EXPit
   + β6RESit + β7PCIGit + β8GFCFit + β9HEGDPit + β10EXTDit + µi     (3.1)
where FDI is a net foreign direct investment, GDP is the gross domestic product, which is proxy for market potential. In cross-sectional econometric studies, it is found that there is a well-established correlation between FDI and the size of the market. GDS is the gross domestic saving. MEGDP is military expenditure as ratio of GDP, which is a proxy for internal and external conflict (Bakari et al. 2013). Political conflicts are also an important determinant of FDI inflows. Political instability, expressed in terms of internal conflict (crime level, riots, labor disputes, and corruption) and external conflict (tension with neighboring countries, fear of war, and military tension at the border) is an important factor that can restrain inflow of foreign direct investment. POP is the population, which reflect market size.
EXP is the export of goods and services. It is found that open economies encourage more foreign investment. One indicator of a country's openness is the relative size of the export sector. Tsai (1994) shown that exports are significant determinants of FDI flows. Multinational Corporations (MNCs) tend to invest in the trade partner markets, with which they are familiar.
RES is the foreign exchange reserve of the country. PCIG is per capita income growth, which reflects improvement in the standard of living and increase in purchasing power. GFCF in gross fixed capital formation, which is proxy for domestic investment. Higher gross capital formation leads to greater economic growth, which helps to attract higher FDI inflows. However, in some cases, the greater domestic investment may lower the need for foreign investment. Therefore, a positive or negative relationship between FDI and capital formation is expected.
HEGDP is government expenditure on health as a percent of GDP, which is a proxy for human capital. Sun et al. (2002) identified human capital as significant determinants of FDI in China. Rodriguez and Pallas (2008) identified that human capital and the export potential are the important determinants of FDI in Spain. EXTD is the stock of external debt of the country, which is expected to have a negative effect on FDI inflows. β0 is the drift component and μ is the usual white noise residuals. The parameters β1 to β10 correspond to the long-run relationship.
4. Panel Estimation Results
The long run determinants of FDI is investigated by constructing panel data of 30 developing countries from 13 different regions of the world for 21 years covering the period 1995 to 2015. The selection of the countries is made on the basis of the availability of complete data on all core macroeconomic variables for the period under consideration. The selected countries therefore have good documentation of their economic data, which is another source of attraction for FDI inflows. The data for the study is taken from World Development Indicators (WDI) of the World Bank. The model is estimated employing the panel least square method.
Table 1 shows that the coefficient of GDP has an expected positive sign and it is statistically significant at 1% level. This shows that an increase in market size will attract more FDI. The coefficient of GDS and RES are also positive and statistically significant at 1% level. Thus, higher domestic savings and foreign exchange reserves will attract more FDI. The coefficient of POP and HEGDP are also positive, while the former is statistically significant at 1% the latter is at 10%. These two variables show that the availability of skilled and unskilled worker with good health attract FDI. The coefficient of EXP is positive and statistically significant, reflecting that an open economy has more chance to attract FDI in the country. The coefficient of GFCF is negative and statistically significant at 1% level. This shows that domestic and foreign investment are a substitute rather than complement. The coefficient of PCIG is positive and highly significant reflecting that higher purchasing power attracts greater FDI inflow. Finally, the coefficient of MEGDP is negative and highly significant. This shows that military expenditure (which is a proxy for internal and external conflict) has a serious negative effect on FDI inflows.
The results presented in Table 1 have gone through several robustness checks. The results of the model are as per findings of the previous studies, which used different samples and estimation methods. The results of the model are good based on the adjusted-R2 and F-statistics. The adjusted-R2 is 0.97, which means 97 percent variation in FDI inflows is explained by these ten variables that are included in the model. This is the high goodness of fit based on the panel data. The F-statistic shows that model is overall highly statistically significant. The bias proportion (0.000) and the variance proportion (0.001) are also reasonable, showing good forecast ability of the model.
Using the results of the above estimated model, first expected FDI will be estimated for each year and then it will be divided by the actual FDI to get FDI potential. The following section discusses this in detail.
Table 1. Long Run Macroeconomic Determinants of FDI
Variable
Coefficient
Constant
-0.166
(0.725)
 
GDP
0.013
(0.003)
***
GDS
0.030
(0.011)
***
MEGDP
-0.809
(0.215)
***
POP
7.868
(1.227)
***
EXP
0.036
(0.007)
***
RES
0.049
(0.005)
***
PCIG
0.225
(0.068)
***
GFCF
-0.058
(0.011)
***
HEGDP
0.390
(0.233)
*
EXTD
-0.017
(0.006)
***
No. of observations
630
 
Adj.-R2
0.964
 
F-statistic
1718.16
 
DW Statistic
1.14
 
5. Potential Countries for FDI Inflows
Table 2 shows the estimation results of average FDI potential for 1995-2010 and 2011-2015. In Eastern African region, Kenya and Mauritius have potential to absorb FDI. In Western Africa, Nigeria and in Northern Africa, Tunisia has the potential for greater FDI inflows. The other countries (Tanzania, Uganda, Ghana, and Botswana) exhausted the potential, while the situation is alarming in Mali, Senegal, and Egypt within the African region. In Eastern Asia, Mongolia and in Southern Asia Pakistan and India has the potential for FDI inflows. In South-eastern Asia, Malaysia, Philippines, and Thailand and in Northern Asia, Russian Federation has the potential for FDI inflows.
Table 1. Long Run Macroeconomic Determinants of FDI
Developing Country
1995-2010
2011-15
1) Eastern Africa
Kenya
0.99
4.49
Mauritius
33.02
23.07
Tanzania
0.66
0.88
Uganda
-1.22
0.35
2) Western Africa
Ghana
4.15
0.77
Mali
14.34
-0.76
Nigeria
1.51
2.22
Senegal
-7.38
-0.09
3) Southern Africa
Botswana
-6.5
0.86
4) Northern Africa
Tunisia
1.6
1.18
Egypt
0.69
-0.67
5) Eastern Asia
China
0.81
1
Mongolia
13.3
2.08
6) Western Asia
Turkey
1.29
0.87
7) Southern Asia
Pakistan
-1.89
1.6
India
3.05
1.31
Sri Lanka
-8.76
0.57
Developing Country
1995-2010
2011-15
8) South-eastern Asia
Indonesia
2.69
0.67
Malaysia
7.35
1.35
Philippines
1.85
2.21
Thailand
1.32
3.49
9) Northern Asia
 
 
 
10) Eastern Europe
Bulgaria
0.71
1.35
Romania
0.7
1.52
11) Central America
Mexico
0.68
0.95
Guatemala
3.54
1.43
12) Southern America
Bolivia
0.76
8.01
Ecuador
1.6
1.35
Peru
0.57
0.67
13) Caribbean Island
Jamaica
1.14
1.18
In the Asian region, China, Turkey, Sri Lanka, and Indonesia have exhaustive their FDI potential. In Europe, Bulgaria and Romania are potential countries for FDI inflows. In Central and South America, Guatemala, Bolivia, and Ecuador are the main countries that have a high potential for FDI inflows, while Mexico and Peru exhausted its potential for FDI. In the Caribbean Islands, Jamaica is identified as potential developing country for FDI inflows.
The results show that Egypt, Mali, and Senegal are the countries that show net average outflows during 2011-2015 based on their macroeconomic performance and political stability. In sub-Saharan Africa, Botswana, Uganda showed improvement in FDI potential as its average estimated value changed from negative to positive. In Asia, Pakistan and Sri Lanka showed good economic and political stability which turn their FDI potential from negative to positive value. Pakistan has a high potential for FDI while Sri Lanka has exhausted its FDI potential.
6. Conclusion and Policy Implications
This study initiated with twin objectives. The first objective was to investigate the determinants of FDI and the second was to identify the developing countries, where actual FDI inflow is less than the estimated inflow based on their economic performance and political stability. The study is based on secondary panel data of 30 developing countries from 13 regions of the world covering the period from 1995 to 2015. The regression results identified ten core variables that explain 97 percent variation in FDI inflows to developing countries. The study found that market size, domestic saving, population, openness, foreign exchange reserve, per capita income growth, public expenditure on health have a significant positive effect on FDI inflows. The political instability, external debt and domestic gross capital formation have a negative effect on FDI inflows to developing countries.
The second objective was to identify the developing countries from the 13 region of the world that has a potential for FDI inflows. The results show that among African countries, Kenya, Mauritius, Nigeria, and Tunisia have the potential to attract more FDI. In Asian countries, Mongolia, Pakistan, India, Malaysia, Philippines, Thailand, and the Russian Federation have great potential to attract FDI. In European countries, Bulgaria and Romania have good potential to attract FDI. In Central and South American countries, Guatemala, Bolivia, and Ecuador have a potential to absorb more FDI inflows. Jamaica is a country in the Caribbean Island that has potential to absorb more FDI.
The policy implications of this study are clear for the governments of these countries. The policymakers need to pay attention on the macroeconomic factors that are responsible for FDI inflows/outflows mentioned in this study. The countries identified for potential FDI inflows need to strengthen their relationship with the FDI source countries and government and should design policies to facilitate FDI inflows.
As a future direction for this research, it is suggested that studies should be conducted to identify the potential sectors in such developing countries that are capable to attract FDI based on their economic performance and political stability.
∗Professor, Department of Economics, University of Karachi, Karachi, Pakistan
Email address: awaheed@uok.edu.pk
1For a review of theoretical literature on FDI, see Offiong and Atsu (2014):1541-1543.
2These variables were government consumption expenditure, lending interest rate, international trade volume, trade balance, taxes on international trade, and literacy rate.
References
Asiedu, E. (2002). On the Determinants of Foreign Direct Investment to Developing Countries: Is Africa Different? World Development, 30(1):107-119.
Azam, M. and Lukman, L. (2010). Determinants of Foreign Direct Investment in India, Indonesia and Pakistan: A Quantitative Approach. Journal of Managerial Sciences, 4(1):31-44.
Bakari, H. R., Chamalwa, H. A. and Jackson, S. Y. (2013). Determinants of Foreign Direct Investment (FDI) Inflows to Nigeria (1970-2010). IOSR Journal of Mathematics, 9(1):24-35.
Devi Sh. S. (2014). Determinants of Foreign Direct Investment: Empirical Evidence from India. Journal of Global Economy, 10(1):15-22
Garibaldi, P., Mora, N. Sahay, R. and Zettelmeyer, J. (2002). What Moves Capital to Transition Economies? IMF Working Paper No.WP/02/64. International Monetary Fund.
Jayasekara, S. D. (2014). Determinants of Foreign Direct Investment in Sri Lanka. Journal of the University of Ruhuna, 2:4-13.
Jha, G. M., Agrawal, A., Gupta, A., and Mishra, A. K. (2013). Determinants of FDI in South Asia. International Research Journal of Social Sciences, 2(1):1-6.
Koojaroenprasit, S. (2013). Determinants of Foreign Direct investment in Australia. Australian Journal of Business and Management Research, 3(8):20-30.
Leitao, N. C. and Faustino, H. C. (2010). Determinants of Foreign Direct Investment in Portugal. Journal of Applied Business and Economics, 11(3):19-26.
Mottaleb, K. A. (2007), Determinants of Foreign Direct Investment and Its Impact on Economic Growth in Developing Countries. MPRA Paper No. 9457.
Offiong, I. A. and Atsu, A. I. (2014). Determinants of Foreign Direct Investment in Nigeria. International Review of Management and Business Research, 3(3): 1538-1550.
Ranjan V. and Agrawal, G. (2011). FDI Inflow Determinants in BRIC countries: A Panel Data Analysis. International Business Research, 4(4):225-263.
Rodriguez, X. and Pallas, J. (2008). Determinants of Foreign Direct Investment in Spain. Applied Economics, 40:2443-2450.
Sun, Q., Tong, W. and Yu, Q. (2002). Determinants of Foreign Direct Investment across China. Journal of International Money and Finance, 21:79-113.
Tsai, P. L. (1994). Determinants of Foreign Direct Investment and Its Impact on Economic Growth. Journal of Economic Development, 19(1):137-163.
BOOK REVIEW
Disability, Education and Employment in Developing Countries: From Charity to Investment by Kamal Lamichhane, Cambridge: Cambridge University Press. 2016. xvi+272pp. ISBN 978-1107-0640-65.
This book under review is a report on a developmental research project using empirically based data on the needs and capacity of various disabled persons in three South Asian countries, namely, Bangladesh, India and Nepal, supplemented by some information about Cambodia and the Philippines. However, the emphasis on analysis is Bangladesh, India and Nepal, thus it is highly relevant to readers of the International Journal of South Asian Studies. The book under review is highly valuable for the following reasons. First an empirical study about disabled persons is extremely rare in South Asian countries. Second it is timely. The above countries recently ratified the United Nations International Convention on the Rights of Persons with Disabilities (CRPD) 1, and the new development framework for 2016-2030, namely, the Sustainable Development Goals (SDG) with 17 goals, which is more disability inclusive 2, was recently proclaimed at the United Nations general assembly and it is under implementation.
However, the most significant aspect of this book is its author's personal experience. The author, Dr. Kamal Lamichhane was born with visual impairment in the Chitwan District of Nepal and was deprived of receiving education. Later, the author received his MA in education from the University of Tsukuba and Ph.D. from the University of Tokyo. He is also a recipient of the Japan International Cooperation Agency (JICA) fellowship. Thus, the author himself is a living example of successful disability inclusive human resources development and international cooperation. With the shift of the concept of disability from the medical model to the social model, and from the charity model to the rights model, such personal disability experience of this researcher is extremely important. Ralston and Ho (2010) argue that research on disability and the formulation of policy should actively incorporate perspectives of personal disability experiences of disabled individuals themselves 3.
In the following section, chapter by chapter, a summary of the features of needs and capacity of disabled people in the five countries will be presented. However, some of the topics such as the case studies in India, Nepal and Bangladesh, which the reviewer found relevant and interesting, will be snap-shots, taken up and discussed somewhat in detail.
However, before I move to the chapter by chapter summary, allow me to present first, a very brief overview of the paradigm shift of the disability model, which is a focus of this book as well, as without that, understanding disability and development is impossible. In any study related to disability, the theoretical conceptualization of disability is critical. It is notable that the author, who is disabled, adopts a dynamic evolution of the social model of disability, namely, the human development model of disability. In disability studies, there are two schools concerning the concept of disability, the medical model and the social model. Both models see disability as a challenging predicament faced by various disabled people, in developed and developing countries, alike. However, the medical model sees disability as a condition that needs medical intervention, such as surgery and physical therapy. On the contrary, the social model sees it as a condition that requires the positive change in social attitudes, legislation and policies. Thus, the latter emphasis is on the burden of society, such as a barrier-free physical environment, information barrier free, anti-disability legislation and public awareness. The medical model views impairments, with the focus on the limitation of individuals and looks for medical interventions such as surgery or provision of medical aids. The latter model is still commonly accepted in some developing countries. The social model, which was originally born in the West (e.g. England and USA), by contrast, looks at disabilities as social rather than natural and physical deficits. It conceptualizes disabilities as a set of social barriers that limit participation of disabled individuals in socio-economic-political domains. Thus, possible interventions will be the removal of physical, information and emotional barriers, including universal design. The social model places a burden on society itself and not on disabled individuals. Recently, there have been a gradual shift from the medical model to the social model, in the West as well as in a growing number of developing countries. One can say that now the social model component such as self-determination is well accepted universally and globally.
However, there has been an evolution of the social model itself, too. The World Health Organization adopted the "International Classification of Functioning, Disability and Health (ICF-WHO 2001)" 4 emphasizing the interconnection of (i) impairments, such as the problem of body function, and (ii) environment factors, which together restricts full participation of disabled persons. This is a sort of combined social-medical model. This kind of model recovers to a degree a nearly lost cause of medical and physical impairment issues.
The above-mentioned CRPD fully recognized the needs of disabled people based on human rights and not as a charity, and it promotes the political commitment of the State Parties. Regardless of this progress and evolution, only limited attention was given on the part of governments of developing countries, where most disabled people and their families are still living below poverty line, including the South Asia region. Therefore, the author has adopted a dynamic approach to disability, fully reflecting the reality of South Asian countries. Built on the famous scholar, Amartya Sen's concept of "capability approach" 5, Mr. Lamiehhane has adopted a dynamic and practical approach to disability, the "investment model of disability," which emphasizes the capacities of disabled people and the investment in human capital formation of disabled people through social inclusion, economic empowerment, self-reliance and self-esteem. His model of disability can be defined as a progressive and dynamic social model, which is meeting the reality of developing countries including South Asian countries. His approach to disability may be based on his own upbringing and disability experience.
Chapter 1, entitled "Fundamentals of Disability Studies" presents a foundation and the afore-mentioned dynamic transformation of the disability model, from the medical model to the social model, and from the latter to its progressive versions such as the combined model, the rights model, the investment model and other forms of the post-social model. It touches on the slight difference of conceptualization of disabilities between that in high-GDP developed countries, and in resource-poor developing countries. Also, the author very humbly defines the investment model of disability, as a still shaping-up new concept, one that simply sees disability as a matter of economic investment and development as opposed to charity. Thus, the author tried to provide empirical evidence on key issues to consider disability from the perspective of this investment approach in the following chapters.
Chapter 2 shares the global situation of employment of disabled people and further discusses the meaning of full participation in the labour market, particularly the role of working to improve the standard of living, better livelihood, and boosted self-esteem. It also describes various barriers for disabled people's entry into the labour market.
Chapters, 3, 5, 6, and 7 are the most relevant parts to our readers, and they provide the situation of labour market participation of disabled people in two South Asian countries namely, Nepal and Bangladesh, in addition to the Philippines and Cambodia. Among these, chapter 3 covers the connection between, education, employment and occupational choices. In both Nepal and Bangladesh, disabled people with longer years of schooling tend to be engaged in full time and/or white-collar employment with higher income. Chapter 4 is about the employment situation of disabled people in Cambodia, so it is not covered here.
Chapter 5 discusses the employment situation of disabled people in Bangladesh, with statistical analysis of the full sample of 29,690 of both disabled and non-disabled people, aged between 15-64 years. It presents the determinants of labour market participation of both disabled and non-disabled people, with a gender-based analysis. The result shows that people with severe impairments or multiple impairments are less likely to be employed. Among disability types, compared to the persons with hearing impairment and visual impairments, physically impaired persons are less likely to be employed, even with longer years of schooling. The reviewer finds it opposite to the case in many developed nations. The author attributes this difficulty faced by physically impaired persons to the lack of barrier-free physical environment and the failure to provide reasonable accommodations. As anticipated, being female is statistically negative in the probability of being hired. Disabled women are multiply disabled in Bangladesh. In terms of policy, the author called for affirmative action regarding hiring of disabled persons (e.g. employment quotas and tax concessions) and provision of reasonable accommodations for the work-space.
Chapter 6 seems to be another main chapter of this book and it is about the author's native country, Nepal. It statistically estimated the return on investment in the education of people with disabilities in Nepal. Wage returns on investment were estimated, statistically. The result showed that for every additional year of schooling that disabled people undergo, their wage increases by 19.3 to 25.6 per cent 6, as long as the condition of minimum 10 years of schooling is met, which is the prerequisite for employability. In the modest view of the reviewer, this finding is significant, because it proved that the myth of disabled people not benefitting from investment in education and being unproductive is empirically wrong and not true. This kind of empirical finding is unique in disability studies.
Chapter 7 is entitled "Disability, Poverty and Inequality: A Case Study in Nepal", which is a comparison of the poverty profile and factors of poverty of the overall population and people with disabilities. It shows that poverty, poverty gap, and severity are higher among people with disabilities. The author concludes that disabled people are more vulnerable to falling into poverty and they face more inequality. However, the reviewer wishes to raise one question herewith, "whether poverty is a cause of disability or disability is a cause of poverty". Perhaps, there is a probability that poor households may have a higher chance for (re)producing disability, due to malnutrition, lack of health, and other factors related to poverty. In the author's study, among the significant factors for increasing per capita household consumption are education, land assets, access to facilities and employment in non-agricultural sectors of occupation.
Chapter 8 discusses the job satisfaction of disabled employees in Nepal, in relation to their job status. Empirical studies revealed that physically disabled people showed a higher level of job satisfaction due to their higher level of discrimination and challenges to enter the labour market. This chapter also finds that disabled employees find an improvement in life, associated with jobs, such as finding friends, increasing their community participation, making decisions and discovering new abilities, all of which is an additional bonus to employment and income.
To enhance the understanding of investment itself, chapters 9 and10, are about the barriers faced by disabled children in India and Nepal, respectively. The negative correlation of disability and school participation or completion suggests that disabled children face multiple challenges within families and education institutions in terms of lack of reasonable accommodations 7 to meet their individual needs. An interesting finding is that parents' education is positive for school participation of disabled children but the effect of interaction between disability and the father's education is limited, indicating that parents regardless of their educational attainment levels, tend to see their disabled children with discrimination and prejudice. The author argues that discrimination starts at home. The Indian case (chapter 9) shows that parents' financial situation is a critical factor as statistically the monthly expenditure is positively correlated with school participation. Gender discrimination exists, but disability-based discrimination is stronger. If parents have a boy with disability and a girl without disability, they will invest in the girl's education rather than that of the disabled boy.
Chapter 10 explores the educational barriers in the author's native land, Nepal. Some barriers are disability-specific but there are common barriers to all kinds of disabilities. The supply side of barriers include the limited access to schools, the cost issues, the lack of barrier-free infrastructure, the lack of qualified teachers, and insufficient class support. The demand-side problems are related to the negative attitudes on the part of families and society.
The last chapter, 11, entitled "The Way Forward". includes a brief overview, highlights and conclusions. The author suggests some policy actions for the future, based on the findings. First, fully admitting the value of this study, which was conducted by a disabled researcher (himself) from the region (Nepal), he argues that disability studies today require greater empirical evidence, not just advocating human rights and needs. This point is 100% endorsed by the reviewer. He also stresses that disability studies shall reach out to mainstream economists to incorporate economic realities and to influence economic policies. Finally, to reflect the needs of developing countries, the author briefly touched on the need for international cooperation. CRPD is unique as a UN human rights treaty since it includes a specific article on international cooperation, including the need for interdisciplinary and cross-geographical research on disability and development. The author argues that rigorous and empirically supported studies are better to convince decision makers to include disability in their national policies.
The book under review is highly recommended for its comprehensive coverage and empirically sounds research methodology. As the author's view promotes the effectiveness of investment in human capital formation among disabled people, it provides timely support for the above-mentioned CRPD provision of international cooperation. It also reflects the real challenges faced by grass-roots disabled people living in developing countries, including the South Asian region. Indeed, the article 32 of CRPD emphasizes the need for disability-inclusive official development assistance (ODA) policy and international cooperation. Thus, this book is particularly relevant to ODA policy makers and international cooperation practitioners of both governmental organizations and non-governmental organizations, who specialize in the South Asian region.
The book is unique as it was written by a highly qualified researcher, under the auspices of a JICA fellowship, who is blind himself and familiar both with the situation of the region (Nepal) and Japanese ODA policy. In the West, some radical social-model activists argue that disability studies should be conducted by disabled people themselves, reflecting their individual disability experiences. Moreover, there are very few disability studies published from developing countries. It is ironic that 80 per cent of disabled people live in developing countries and are marginalized from mainstream development; however, even less than 20 per cent of disability related research is found in developing countries 8. The author's investment approach to disability is very much embryonic; however, it well reflects the challenges faced by disabled people in developing countries, in contrast to the Western-initiated "social model of disability", now wide-spread in advanced economies including Japan. His approach may be more relevant and useful to convince the leaders of developing countries to consider issues of disability inclusion when they are in the position to manage development priorities with limited budget.
The reviewer would like to share some critical points that need to be addressed, though they do not diminish at all the uniqueness and value of this research. First, although the author's investment approach to disability is interesting and it reflects the reality of developing countries, it is not yet a fully established model, such as the medical model or the social model. Follow-up and larger scale of qualitative and quantitative studies are needed to further validate the author's approach.
Second, my biggest criticism is the author's failure to address policy debates about disability inclusive development and international cooperation. The definition of disability inclusive development itself is still to be further developed, and it is challenged when bread-and-butter issues are being addressed in development policy. Based on the findings, the author could have advocated more details about the preferred forms of international cooperation, perhaps keeping some distance from the current "social model only" trend 9. The reviewer believes that in today's ODA, traditional programmes such as vocational training, micro-financing and community-based rehabilitation (CBR) were pushed back to the edge. The findings of this pilot research may have given a fresh opportunity to re-think the modality. The book's focus should have been more on disability and development policy.
Third, there are few criticisms about the research methodology. In terms of representation in the sampling, some impairment or disability such as multiple, mental, and psychological disability are not fully represented. The statistics presented are basically about blindness, hearing impairment and physical impairment. Furthermore, throughout the research, the difference between "impairment" and "disability" is not clear, and sometimes mixed up. Though the author does not support the old-fashioned medical model of disability, the definition and classification of disability used here is purely based on the medical model, and "impairment" is used for classification of disability. This may be inevitable as the analyses were made, built on the existing household statistics. However, some efforts could have been made. One of the solutions may have been "triangulation", reflecting some illustration of individual disability experiences. This can be done through individual interviews or other forms of qualitative methods. For instance, "hearing impaired" which is the category used in this study, can be "deaf people" who are sign language users (often with congenital hearing impairment) or "hard of hearing" who have lost hearing in the middle of life and do not use sign language. Though they are categorized as hearing impaired, their individual disability experiences are very different, and they are living in different worlds. To what extent has such a difference been explained in this book? In this respect, adopting the social model methodology 10, disability experiences of the research participants could have been illustrated, which could have made this book more interesting and colorful.
Fourth, the viewer is in the position to criticize that throughout the research, gender sensitivity is somehow lacking, and gender-based analysis is not sufficient. In South Asian countries, more detailed analysis of gender-based discrimination compounded with disability/poverty is recommended.
Lastly, though not so important, a few printing/typing mistakes have found in otherwise smartly composed text writing. I hope that one day, based on this rigorous research, a more illustrated and vivid version of this book with some additional case studies and individual disability experiences will be re-printed, which may be enjoyed by a wider range of readers.
KOZUE NAGATA
Professor
Faculty of Intercultural Studies
Nagoya Gakuin University
1Convention was adopted on 13 December 2006 during the sixty-first session of the General Assembly by resolution A/RES/61/106 and by now, 177 countries ratified or accessed to the CRPD. Bangladesh, India and Nepal are all signatories of CRPD.
Downloaded from the UN home page on 23 April 2018(https://www.un.org/development/desa/disabilities/convention-on-the-rights-of-persons-with-disabilities.html).
2Unlike its predecessor, the Millennium Development Goals 2000-2015 that was insensitive to disability, SDG incorporated disability dimensions in its 17 goals such as inclusive education in goal 4, inclusive employment in goal 8 and inclusive physical environment in goal 10.
3As quoted by the author in the book under review.
4WHO's new classification ICF WHO (2001), unlike its predecessor classification, ICIDH emphasizes the environmental factors that create "disability". This model may be considered a mixed version of medical and social models of disability.
5Amartya Sen's introduced the concept of the capability approach, whose core component is its distinction from functioning and capabilities. It guides the understanding of disability, both the social model and the medical model. The approach gained prominence when it became a basis for the Human Development Index by the United Nations Development Programme (UN, 1994).
6According to the author, previous studies on returns to education for persons with disabilities in developing countries is around 10%, thus, this research result is much higher than that.
7The United Nations Convention on the Right of Persons with Disabilities (CRPD), to which India, Nepal and Bangladesh are all signatories, mandates the Signatory States to provide reasonable accommodations to the needs of disabled people in the public spaces.
8Quoted from the page 259 of the book under review.
9The social model, particularly the approach in the West, highly values the qualitative research methodology with case studies and interviews, fully reflecting the real voices of disabled individuals. Story-telling style is often adopted in an academic research in disability studies.
10In the radical form of social model, there is a tendency to value qualitative method of research, fully reflecting individual disability experience by impaired persons. In social model, there is a clear distinction between medical impairment and social disability. In the social model, absolute equal position is advocated between researchers and disabled participants to share the final product of research.
BOOK REVIEW
Soldiers of Empire: Indian and British Armies in World War II by Tarak Barkawi, Cambridge: Cambridge University Press. 2017. xvii+ 321pp. ISBN978-1316620656.
There are contending theories to explain why, despite being racially discriminated, a large number of Indian soldiers remained loyal to their British masters during the Second World War (1939-1942). However, soon after the end of the Second World War a number of soldiers extended their support to the then ongoing freedom movement in India. They raised their voice against the multiple discriminations practiced against them by the British. For example, in 1946 Indian soldiers from the Royal Indian Navy mutinied against their superiors. In this book Tarak Barkawi talks about how the British trained the Indian soldiers who remain loyal and won the Second World War for them.
The loyalty of the Indian soldiers was not new for the British. In 1857 during the rebellion from some of the sepoys (soldiers) supported by the Indian rulers under the leadership of frailed old last ruler of Mughal dynasty, Bhadur Shah Zafar, the East India Company was assisted by the Indian soldiers from friendly princely states. In 1858 after the British Crown took over the administration from the East India Company, new policies were adopted to recruit the Indians in the military. The communities were divided between the "martial" and "non-martial" races: Those who helped the British in crushing the 1857 rebellion were termed as the "martial races" while the rebellions were categorised as "non-martial races". About it, Barkawi writes that "the stereotypes of the martial races were constructed and realized through disciplinary power, shaping "recruits in the manner of self-fulfilling prophecy" (p 27). To retain such feeling the British also invoked religious and caste sentiments of the soldiers.
During the war the traditional recruitment policy was re-written, and many young people from the "non-martial" ethnic groups were recruited to raise the number of soldiers from about 160,000 to approximately two million. At many places people also joined the British Army to overcome poverty while at some places male teenagers were forced to join the British forces1. As a result, unlike earlier, ethnically mixed companies called as "chapati company" were formed in many battalions (p 52). This social mix up was not welcomed by a number of Indian soldiers who now could not boast their racial and caste supremacy over the "non-martial race".
Unlike, the First World War (1914-1919) during the Second World War a large number of Indians were politically trained to participate in the anti-colonial movements. Amidst the Second World War, in 1942 the Indian National Congress launched Quit India movement, and also Indian National Army (INA) was formed by Captain Mohan Singh, later taken over by Subhas Chandra Bose to fight against the British for independence of India. Soldiers had varied opinions on such political developments. Many of them criticised the Quit India movement because it inflicted hardships on their respective families lives while some infused with a sense of patriotism defected to the INA to fight against the British rule in India (p 87). The INA also had Prisoners of War (PoWs) handed over by the Japanese to Mohan Singh to fight against the British for India's independence. However, as Barkawi maintains that many of them ended up in the Japanese prison and labour camps, and died there (p 114).
Part II of this book discusses the happenings at the war theatres in Burma (now Myanmar) and importance of discipline among the soldiers form different cultural backgrounds and countries (p 125).
Barkawi talks about the fight in Arakan region in Burma where due to a lack of experience and training in the jungle warfare a number of Indian soldiers lost their lives (p 131). Besides the British fighting the Japanese forces they had to also stop the INA which was making advance to fight against the British and free India. The British suspected that a number of INA soldiers in Myanmar penetrated into the British Army camps and encouraged the Indian soldiers to rebel against them (p 138). A few of the Indian soldiers from the British camps did defect to the INA camp (p 142).
Theoretically, looking into the sociological aspects of the Second World War, Barkawi talks about the importance of drill, rituals and sacrifice. He has discussed the theories of Du Picq, Durkheim and neo-Durkheminans to highlight the importance of the military practices. War does not symbolize individual valours, but it is also about the values, cultural traits and norms one deeply ingrained. Soldiers from different societies have different goals to achieve through war, and so definition of valour and sacrifice differs from one to another (p 193). The author has discussed the battle at Sangshak and some other engagements in the initial stages of the Japanese U-Go offensive at Kohima and Imphal in India (cited 204).
Part III of the book is on the representation of combat and cosmopolitan military histories and sociologies. As soldiers have to kill others to survive in the battlefield and win wars, it cannot be done without constructing a myth of self-greatness and hatred for the enemy. Most of these constructions are indoctrinated during the training or at war schools. Also, rumours are spread to denigrate the enemy. Likewise, during the Second World War "propogandists invented conflicts between Indian cultural and religious practices and those of the Japanese. Hindu soldiers were told that the Japanese were cruel to cattle and that they desecrated temples. Variations included Sikh PoWs being forced to shave their beards and cut their hair or Hindu or Muslim troops being forced to handle or eat beef or pork respectively" (p 235). However, a report on British infantry in India noted that "[b]efore the sudden entry of Japan into the war the average British soldier knew little or nothing of the Japanese" (Cited p 236).
Like all other wars, during the Second World War too, survival, self-interest, and relative comfort were likely motives of soldiers for their moves from surrender, to Japanese service, to British service again (p 256). But there were some who preferred to die instead of falling into the service of the enemy or taken as a PoWs. Scale of hurting or violence against the self was more prevalent among the Japanese soldiers. Majority number of Japanese soldiers refused to surrender instead they prefer a repeated costly frontal assaults-the banzi charge. Among the Japanese soldiers there was an "extreme veneration of death", and a "cult of oblivion" in which to die in battle was an honour to the family and a transcendent act on the part of the individual. This was looked by many Allied soldiers as an evidence of Japanese courage but also of their rigidity and stupidity (cited 260).
Well Barkawai has talked about discipline and training of Indian soldiers by the British, he has missed to look into the details of about discriminations met by the Indian officers by their British counterparts. By the time Second World War started a number of Indians were commissioned into the British Indian Army. They were trained in Britain and in India but faced discrimination from their white colleagues. Second, although, as Barkawi has talked, the British were able to instill discipline among the Indian soldiers, there are examples when soldiers refused to obey the orders. For example, the Garhwal Rifles soldiers disobeyed to fire at Indian protestors during the non-cooperation movement.
This book by Tarak Barkawi is a well-researched sociological study on the role of the Indian soldiers during the Second World. It has, comprehensively, tried to look into some of the harsh realities of the Second World War where many soldiers sacrificed their lives fighting for one or the parties at the war.
Amit Ranjan
Research Fellow
Institute of South Asian Studies
National University of Singapore
1See Raghavan, Srinath (2016), India's War: The Making of Modern South Asia, 1939-1945, Gurgaon: Penguin, and Yasmin, Khan (2015), The Raj at War: A People's History of India's Second World War. London: Vintage.